In the last two months I've had the privilege of presenting at and attending six different technology events. They've been so fun and diverse that a quick recap is in order.
No Fluff Just Stuff Symposium in Atlanta
This was my first time presenting at an NFJS event in Atlanta, and you can be certain I'll be back. Earlier in the Summer, I had the opportunity to address the Atlanta Java Users Group (AJUG) and show off the flexibility of Git. For the NFJS Symposium, I talked about Hadoop, Git, Encryption on the JVM and Open Source Debugging, which are my "fun but informative talks" lineup for 2010.
Colorado Springs Open Source User Group
Gary Hessler runs a great user group in Denver's sister city to the south. I had the opportunity to present Git, one of my favorite topics since it is accessible no matter what language you program in and what platform you use. My NFJS colleague, Tim Berglund presented his always well-received Decision Making talk. It is an interesting divergence from the typical programmer presentation and gives you techniques to deal with team dynamics.
JavaZone in Norway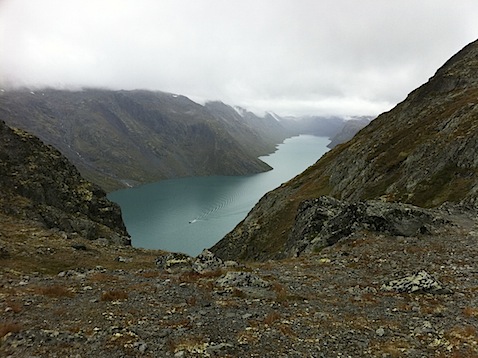 The ever-excellent JavaBin User Group in Norway put on a stellar conference called JavaZone for 2000+ people. What a show! The diversity of talk formats, speakers, and topics is simply incredible. After the conference, about 25 of us experienced a once-in-a-lifetime event of hiking in the Norwegian countryside. The otherworldly photos and hike details will make you want to attend next year!
The sessions are recorded at JavaZone and two of mine are available online. The former was in the big room in a formal setting. The latter talk was in a smaller room at the end of the conference and had a more informal feel where questions could be asked of the audience and vice-versa. Encryption Boot Camp on the JVM
Hadoop: Divide and Conquer Gigantic Datasets
StrangeLoop in St. Louis Missouri
After returning from JavaZone, I headed to Missouri for the super-technical event named StrangeLoop brewed by Alex Miller. The lineup of speakers was stellar and the non-profit atmosphere was very relaxing. Hilary Mason, Guy Steele, Yehuda Katz, Josh Bloch, Doug Crockford, and many others. I will be attending next year if the timing works out again.
No Fluff Just Stuff Symposium in Minneapolis
My home base of conferences, NFJS, brought me up to the always warm audiences of Minneapolis. This has to be one of my top-5 favorite stops on the tour due to the beautiful hotel and the technologically advanced attendees. Their questions are deep and I try to be as prepared as possible for them. I had the privilege of Brian Sletten and David Hussman sitting in my classes about Hadoop.
SpringOne
The sprint of conferences concluded with my attendance and helping out with the logistics of SpringOne2GX in Chicago. The hotel was spectacular and the attendance overwhelming. It seemed to be just shy of a 1000 people and double last year's attendance. I attended some great sessions and had hallway chats with the likes of Hamlet D`Arcy, Hans Dockter, Paul King, Andres Almiray (our co-incidence rate at conferences is getting to be uncanny!), Peter Bell, and Chris Beams. I'll try to put in some abstracts for next year and get invited to speak!